The main focus of any tradesman is how to get the job done in the safest, most economical way.
There are many costs involved in the sawing, drilling and grinding of concrete and asphalt. Cost of the worker, the machinery and of the course the tool itself that performs the work at the cutting edge. Each is significant in its own right however these can be significantly reduced by the use of great performing products in terms of life and speed.
Bad inefficiency in any aspect of tools usage manifests itself in poor unsatisfactory performance. More often than not poor performance from the tool is because of poor or wrong blade choice or technique by the operator.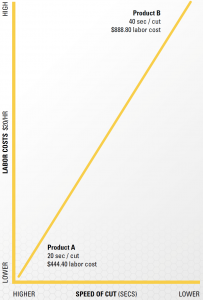 MAXIMIZING EFFICIENCY = COST REDUCTION
When using a diamond tool, reducing the cost per inch-foot of material cut or holes drilled is the main goal. Cost per inch-foot is the most accurate indicator of blade efficiency.
This can also be calculated by dividing the depth of the cut in inches, by the length of the cut in feet. You will then take a number and divide it into the cost of the blade.
Example:
If a blade costs $250 and cuts 4″ deep for 1500 feet, the cost per inch-foot would be: 4″ x 1500' = 6000 inch-feet. $250 / 6000 = $0.042 per inch-foot.
However that is not the only calculation to determine cost and efficiency as the labor rate is an absolute critical calculation to consider when trying to reduce costs on site which always gets overlooked.
Example:
Product A cuts concrete kerbs in 20 seconds and life of the blade is 4000 cuts.
Product B Cuts concrete kerbs in 40 seconds and life of the blade is 4000 cuts.
Workers rate per hour $20.00.
Product A takes 80,000 secs / 60/60 =22.22 hrs of cutting x $20.00 = $444.40 in labor + the cost of the tool
Product B takes 160,000 secs /60/60 = 44.44 hrs of cutting x $20.00 = $888.88 in labor + the cost of the tool
Product A is much more economical than tool B and saves $444.40 in costs and the operator also banks 20 hrs of extra time to complete other tasks on site.
Costs are also affected by blade efficiency, so life allied with cutting speed are crucial factors to consider in comparing diamond products on the market.
• Formulas to consider are inch feet achieved
• Cuts made
• Speed of the tool in use which is extremely important
• Segment height of the product allied with the cost of labor.